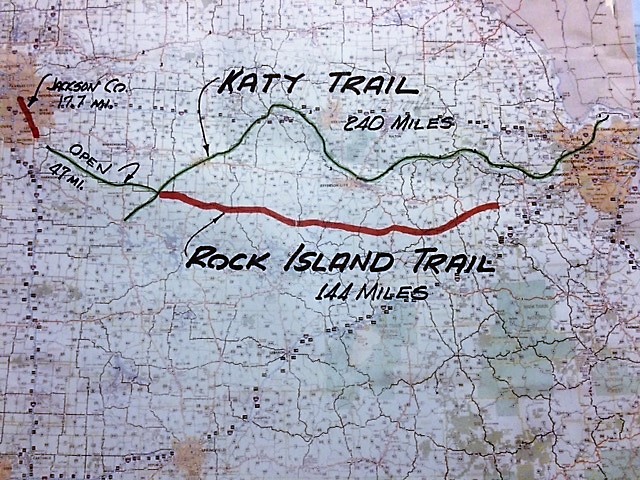 DEDICATED TO PRESERVING THE HISTORY OF THE ROCK ISLAND CORRIDOR AND BUILDING A HIKING AND BIKING TRAIL.
---
Our history begins in the early 1900s when The Rock Island Railway was built. Small towns developed along its length. When rail traffic was discontinued in the 1980s, many of the communities also began to decline. MORIT has a vision to turn this unused resource into an easily accessible walking and bicycling trail. As you will see as you explore these pages, rails to trails projects greatly benefit communities. Because rail corridors generally have a 2% or less grade, trails built on former rail beds are easy for anyone to use. They provide free access to physical fitness activities for all. Rail trails also provide safe routes for children to walk and bike to school. They provide economic opportunities as hikers and bikers purchase food, rent lodgings, and take advantage of other local venues. Trails increase land values along the trail. All these benefits and more are possible when the Rock Island Corridor is converted to a hiking and biking trail.
SURFACE TRANSPORTATION BOARD DOCUMENT
---
ROCK ISLAND TRAIL UPDATE
---
October 12, 2020
On December 17, 2019 Missouri State Parks (MSP) signed a rail-banking agreement with Missouri Central Railroad (a subsidiary of Ameren) acquiring https://mostateparks.com/rockislandlinecorridor. The gift provides a historic opportunity to extend the 47 mile segment that opened December 2016 from Pleasant Hill to Windsor another 144 miles to greater St. Louis. Further, the agreement allows a trail alongside of rail an additional 13 miles to Union. A world-class loop of the 240 mile Katy and 204 mile Rock Island trails would have only a 7 mile gap between Union and Washington, where the new bridge over the Missouri River is bike-friendly. Kansas City is adding 14 miles to I-70 https://www.jacksongov.org/776/Rock-Island-Rail-Corridor-Authority. The rail-banking gift agreement includes a contingency that could prevent Missouri State Parks from fully accepting the corridor. "The agreement requires approximately $9.8 million be raised before the property will be transferred to the department to help cover initial development, security and management costs." The deadline to complete the transfer is December 31, 2021. If it appears MSP will not be able to fully accept the corridor by the deadline, Ameren and MoRIT will work to determine a different trail manager.
The Rock Island will be the non-motorized alternative to the main highway within and between towns. The new infrastructure will motivate users to walk or bicycle to work, school, restaurants and stores. An improved quality of life will make trail communities more desirable to new residents and new industry. Property values will increase, with the highest impact being nearest the trail https://cafnr.missouri.edu/2013/04/happy-trails/.
Tourists will be thrilled http://www.railstotrails.org/trailblog/2016/december/05/missouris-rock-island-trail-state-park/ . Spectacular bridges span the Gasconade, Osage and Maries Rivers as seen in short videos at https://vimeo.com/203368673 and https://vimeo.com/238664842. There are 3 tunnels 2-5 football fields long, with the longest being at Eugene. It is ten miles east of Eldon; the northern gateway to the Lake of the Ozarks. Missouri will be a unique tourist destination. The Katy/Rock loop will be easily accessed, with international airports in St. Louis and Kansas City, numerous national airports, multiple Amtrak stations, and Interstate 70.
In 2012, Katy Trail State Park was found to have a direct economic impact of more than $18.5 million per year https://mostateparks.com/sites/mostateparks/files/Katy_Trail_Economic_Impact_Report_Final.pdf. The Rock Island is expected to have even more usage and economic impact per mile because it runs through the middle of towns every 2-10 miles, and along their major highway. More than 10% is in the city limits of towns. A full 41% of Missourians live within 50 miles of the corridor according to https://rockislandtrail.org/wp-content/uploads/2019/11/Rock-Island-Trail-Opportunity-Report-MU-Extension-2018-Final7.pdf . Dormant properties may become grocery stores, restaurants and B&Bs http://www.joplinglobe.com/news/lifestyles/andy-ostmeyer-rock-island-rocks-windsor/article_3fc6d78b-45f7-514d-9bb6-fd7cece53a1a.html .
The late Ted & Pat Jones famously donated $220,000 to purchase the Katy Trail corridor. Ameren is donating the Rock Island corridor as part of a several million dollar investment toward this park. At the request of MSP, Ameren paid to remove the ties instead of moving them to the side as was done on the first 47 mile segment. Ameren paid for the survey before the rails were removed to clearly establish the boundaries of the future park. Ameren has placed concrete barriers in front of the three tunnels and every major bridge, plus barbwire fencing and No Trespassing signs at every major road crossing. At the request of MSP, Ameren commissioned a Phase 2 environmental study. The two-year salvage of the 144 mile corridor was completed in summer 2018.
In 2019, Governor Parson signed a bill creating the Rock Island Trail State Park Endowment, an account that can only be used for that purpose (page 3 of https://www.senate.mo.gov/19info/pdf-bill/tat/SB196.pdf).
Long distance trails are a top priority https://mostateparks.com/sites/mostateparks/files/ExpansionPlan1992.pdf  on pages 18-19. Governor Parson introduced the latest Statewide Comprehensive Outdoor Recreation Plan (SCORP) with, "The purpose of the report is to identify outdoor recreation issues of statewide significance and evaluate the supply and demand of outdoor recreation resources in the State." The second of seven broad goals is "Expand Missouri's statewide trail system and promote trails as a critical component to engaging in an active and healthy lifestyle." https://mostateparks.com/sites/mostateparks/files/2018-2022%20Show%20Me%20the%20Great%20Outdoors_SCORP_Final.pdf.  
The salvaged corridor remains under the control of MCRR/Ameren until the transfer is finalized. It is posted with No Trespassing signs, but is generally suitable to walk, run, horseback ride, and for bicycles of many sorts. MSP engineers noted, "The corridor is being used by locals for both transportation and recreation." https://mostateparks.com/sites/mostateparks/files/RILC_EngineerReport_Summer2018.pdf. Many towns are interested in partnerships for maintenance, development, and security. Adjacent city parks in Versailles, Eldon, Belle, and Owensville could serve as trailheads by sharing their existing parking, water and toilets.
The trail will open significant new agri-tourism opportunities according to https://www.naturallymeramec.org/ and https://www.newgrowthmo.org. Naturally Meramec, an effort led by Meramec Regional Planning Commission, is developing a Rock Island Trail Motor Trail to promote those agribusinesses in the interim before the trail is opened https://www.naturallymeramec.org/trails/.
The Missouri Chamber of Commerce notes significant economic growth in communities along the first 47 miles
https://mobizmagazine.com/2017/08/17/plans-for-rock-island-bike-path-prompt-small-town-entrepreneurship/. New businesses have already sprung up in the next 157 miles. Towns every few miles already have restaurants and convenience stores; others offer lodging, grocery stores, ice cream and frozen custard shops, wineries, bar and grills, parks, camping, and a distillery. There is a Walmart within a half mile at Versailles, Eldon and Owensville. The trail will connect KC to Missouri's largest state park at Lake of the Ozarks, and fill a long gap between parks https://mostateparks.com/page/57778/locator-map.
The next 157 miles of Rock Island Trail are expected to produce a 20:1 direct return on investment. Economists often estimate an additional 3:1 in indirect multipliers. Missouri State Parks budget is limited to a 1/20 of 1% sales tax and whatever they can generate https://mostateparks.com/page55069//parks-soils-and-water-sales-tax. The key to success will be creative public/private partnerships with communities, individuals and philanthropists. The nonprofit Missouri State Parks Foundation has contracted fundraising firm Hartsook to raise a $9.8 million startup fund by December 2021 plus $10 million to match other monies for construction. See https://www.missouristateparksfoundation.org/what-will-be-achieved-with-the-fund.
Communities are ready to step up, including applying for grant funding. MSP manages roughly $4 million per year in grants for trail and parks. They award up to $250,000 per project in RTP and LWCF grants. The 56 mile segment from Union to the Gasconade would be simplest to develop and would benefit 9 towns. The only two bridges on that segment are estimated to cost $770,000 to repurpose. By October 31, those two bridges will be inspected and engineering plans will be developed to specify what is needed to re-purpose them for trail use.
Greg Harris, Executive Director, Missouri Rock Island Trail 573-202-9632 and moritdirector@gmail.com.